Sport Utility Vehicles (SUVs) have become a popular choice among drivers worldwide, offering a versatile and capable driving experience. These vehicles are known for their robustness and adaptability, making them suitable for a variety of lifestyles and terrains.
To understand what makes an SUV tick, it's essential to delve into its major components, which span six critical categories: Body & Exterior, Engine & Propulsion, Handling & Wheels, Interior & Entertainment, Technology & Electronics, and Security & Safety.
In this comprehensive exploration, we'll break down the key features and technologies that define modern SUVs, providing insight into the driving force behind these versatile vehicles.
What is a SUV (Sports Utility Vehicle)?
A Sport Utility Vehicle (SUV) is a type of automotive vehicle designed to provide versatile, all-purpose transportation. SUVs are characterized by their spacious interiors, typically with two or three rows of seating, and their robust construction. They often feature a higher ground clearance, which makes them suitable for off-road driving, and they are available in both two-wheel drive (2WD) and four-wheel drive (4WD) or all-wheel drive (AWD) configurations.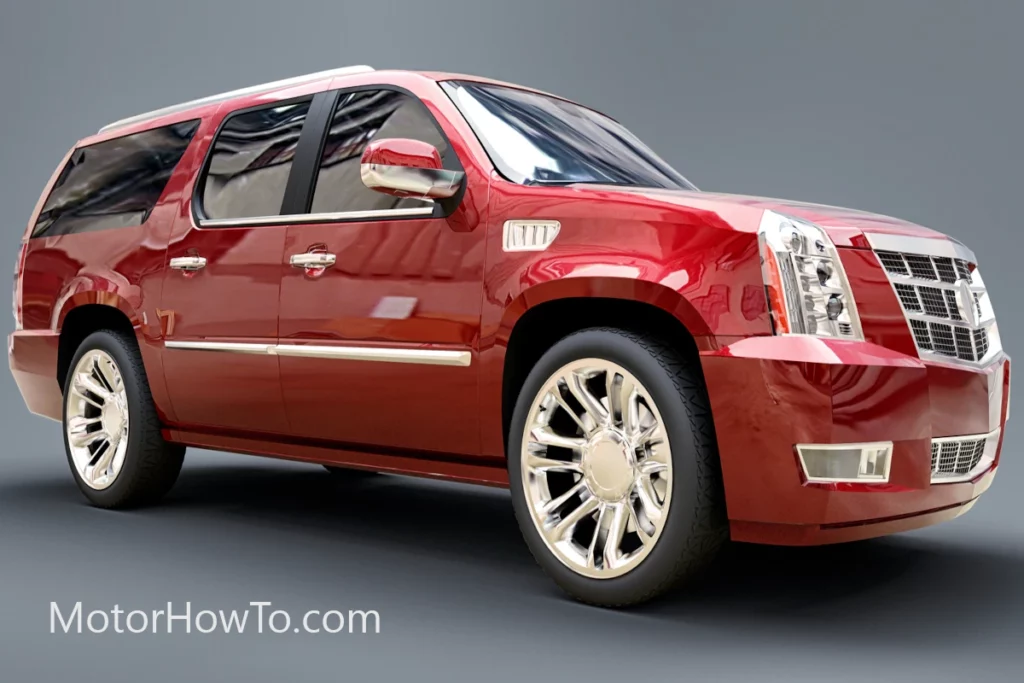 SUVs are known for their towing capacity, making them suitable for hauling trailers or recreational vehicles. They come in various sizes, from compact and subcompact models to full-size and luxury SUVs, catering to a wide range of consumer preferences and needs.
SUVs have gained popularity due to their versatility, offering a balance between passenger comfort, cargo space, and off-road capability.
What Are The 6 Major Parts Of A SUV?
The 6 major parts or components of the SUV include Body & Exterior, Engine & Propulsion, Handling & Wheels, Interior & Electronics, Technology & Connectivity, and Security & Safety.
SUV Body & Exterior
SUV Engine & Propulsion
SUV Handling & Wheels
SUV Interior & Electronics
SUV Technology & Connectivity
SUV Security & Safety
1. SUV Body & Exterior:
Chassis: The chassis forms the SUV's structural framework, providing stability and support. Modern SUVs often have monocoque (unibody) or body-on-frame chassis designs.
Body Panels: SUVs feature various body panels, including doors, fenders, hood, and tailgate, which form the vehicle's outer shell. These panels can be made from steel, aluminum, or composite materials.
Exterior Design: SUVs come in various designs, from rugged and boxy to sleek and aerodynamic. The exterior design affects not only aesthetics but also aerodynamic efficiency.
Roof Rack: Many SUVs have roof racks for carrying cargo, bicycles, or other outdoor equipment. These racks can be fixed or removable.
Lights: This includes headlights, taillights, fog lights, and turn signals. Modern SUVs often feature LED or xenon lights for improved visibility and efficiency.
Windows and Mirrors: SUVs have multiple windows and mirrors, including side mirrors, rearview mirrors, and rear windows. Some come with features like heated mirrors and tinted windows.
2. SUV Engine & Propulsion:
Engine: The engine is the heart of an SUV. Engines can vary from four-cylinder to V8 or even hybrid powertrains, depending on the model. SUVs are known for their powerful engines, suitable for off-road and towing capabilities.
Transmission: SUVs typically have automatic transmissions, although some models offer manual options. Modern SUVs may also feature continuously variable transmissions (CVTs).
Four-Wheel Drive (4WD) or All-Wheel Drive (AWD): Many SUVs offer 4WD or AWD systems for enhanced traction and off-road capability. Some have selectable modes for different driving conditions.
Suspension: The suspension system includes shock absorbers and springs to provide a smooth ride and off-road capability. Some SUVs offer adjustable or adaptive suspensions.
3. SUV Handling & Wheels:
Wheels and Tires: SUVs come with larger wheels and all-terrain or off-road tires to handle various road conditions. Some models have alloy wheels for improved aesthetics.
Steering: Power steering systems aid in maneuverability, while advanced SUVs may offer variable-ratio or electric power steering for better control.
Brakes: SUVs are equipped with robust braking systems to handle their weight and size. Anti-lock brake systems (ABS) and electronic brake-force distribution (EBD) are standard.
Drivetrain: SUVs can have different drivetrain configurations, such as front-wheel drive (FWD), rear-wheel drive (RWD), 4WD, or AWD. These affect traction and handling.
4. SUV Interior & Electronics:
Seating: SUVs typically offer spacious interiors with seating for five to eight passengers, depending on the model. Leather or premium cloth seats are common in upscale SUVs.
Cargo Space: SUVs excel in cargo space. They often have split-folding rear seats to expand cargo capacity. Some models offer power tailgates for easy access.
Infotainment System: Modern SUVs feature advanced infotainment systems with touchscreen displays, navigation, smartphone integration (Apple CarPlay, Android Auto), and premium audio systems.
Climate Control: Dual-zone or tri-zone climate control systems allow passengers to set their preferred temperatures. Rear-seat climate controls may also be available.
Connectivity: USB ports, Wi-Fi hotspots, and wireless charging pads are common features for keeping devices connected and charged.
5. SUV Technology & Connectivity:
Advanced Driver-Assistance Systems (ADAS): SUVs often come equipped with ADAS, including adaptive cruise control, lane-departure assist, blind-spot monitoring, and automatic emergency braking.
Touchscreen Displays: Large touchscreen displays provide access to vehicle settings, infotainment, and navigation. Some models offer heads-up displays (HUDs) for critical information.
Smart Key Systems: Keyless entry and ignition systems allow for convenient vehicle access and operation.
Cameras: SUVs may have multiple cameras, including rearview cameras, 360-degree view cameras, and parking assist cameras, to aid in parking and off-road navigation.
6. SUV Security & Safety:
Airbags: SUVs feature multiple airbags, including front, side, and curtain airbags, to protect occupants in case of a collision.
Antitheft Systems: Immobilizers, alarms, and GPS tracking systems help deter theft and aid in vehicle recovery if stolen.
Safety Features: SUVs often include stability control, traction control, electronic stability control (ESC), and hill ascent/descent control for added safety in various driving conditions.
Advanced Safety Technologies: Some models offer advanced safety features like adaptive headlights, pedestrian detection, and lane centering systems to enhance driver and passenger safety.
Conclusion
In conclusion, SUVs are versatile vehicles designed to excel in various terrains and conditions.
They offer a blend of ruggedness, performance, and comfort across their body, engine, handling, interior, technology, and safety components.
The specific features and capabilities vary by make and model, catering to a wide range of consumer preferences and needs.