Car technology has evolved over the past years, and it can be challenging for people to understand automotive technology.
Technology is necessary for vehicles as it increases car efficiency and design.
That's why modern vehicles function efficiently compared to the ones manufactured 40 years ago because of car technology adjustments.
We know understanding your car technology can be overwhelming, so we are here to simplify your work by providing you with detailed and elaborated information about car technology.
Let's get started and look at the components of car technology…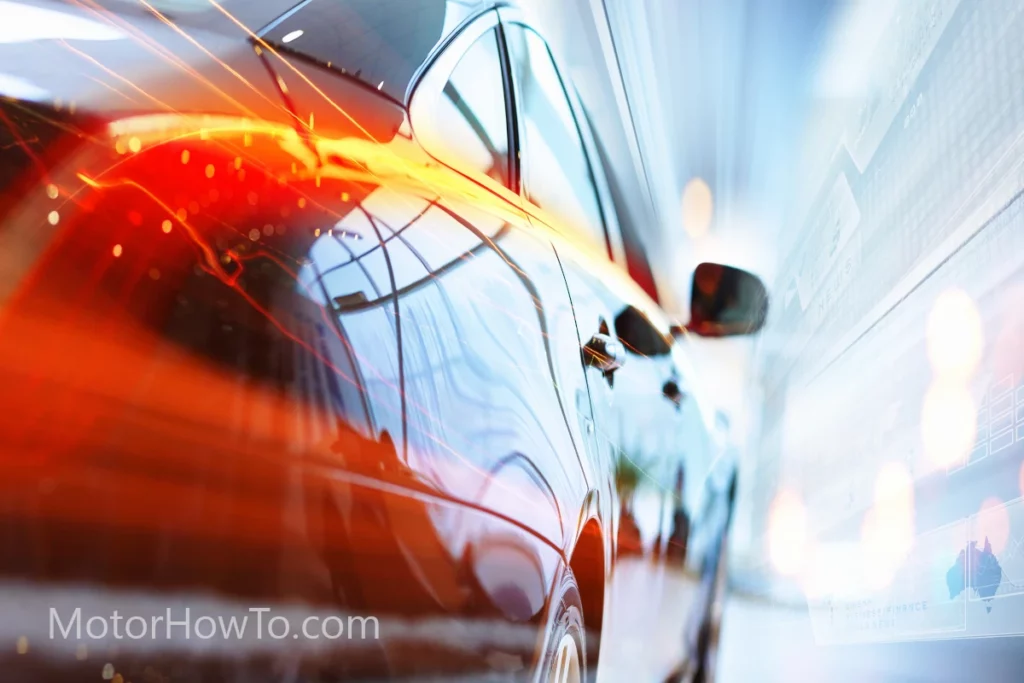 Cruise Control (CC)
Cruise control is a feature that helps car owners and drivers when they are driving at a constant speed. In other words, it is an electric system that enables drivers to position their cars to a specific speed, allowing them to remove their feet from the accelerator pedal.
This feature comes in handy by easing stress and foot fatigue when driving long trips. Additionally, it helps you consume less fuel, especially when cruising at a steady speed compared to accelerating at numerous sections of the open road.
Most modern vehicles are equipped with this feature, which has automatically helped them to have a constant cruising speed.
Smart Cruise Control (SCC)
SCC is an active safety technology that helps drivers automatically regulate the selected distance of every car in front of the lane. This feature can keep a car at a required highway speed eliminating the need for constant driver pressure on the accelerator.
It can also sense moments when preceding cars have stopped or slowed down. When it applies the stop-and-go rule, the smart cruise control might put some cars back in motion when they have stopped.
The setting reacts to the environment automatically, making it a must-have for every car.
---
Related:
Navigation-Based Smart Cruise Control (NSCC)
This part is essential as it helps drivers to travel safely, especially on highways and other car-only roads. It is easier for this setting to sense the vehicle ahead with the help of the front radar and front view camera. It then analyzes the safe speed range using its navigation system.
The navigation-based intelligent cruise control also automatically decelerates before entering the curve section and safe speed range. Then the auto set setting automatically converts the set speed to the speed limit focusing on each vehicle-only road or highway.
Another fantastic thing about navigation-based smart cruise control is that it allows you to drive at a safe speed, especially at the exits and entrances of expressways and automobiles. It will sense the car in front using the front view camera and front-side radar, then detect the exit and entrance by applying the navigation system.
Lane-Keeping Assist (LKA)
One specific thing with Lane-Keeping Assist (LKA) is that it utilizes a video camera to recognize the lane markings in front of the vehicle and also oversee your car's position while in its lane. Whenever your car's distance toward the lane markings reduces drastically, the lane-keeping assist plugs it into the highway.
In cars with electric power steering, the lane-keeping assists slowly and noticeably counter steers to help keep your vehicle on the lane. On the other hand, cars with no electric power steering also use the electronic stability program to break the individual wheels.
Most drivers like using this feature to achieve their vehicle control. However, activating the change signal usually affects the system negatively; hence, it may not intervene.
Here are the highlighted benefits of Lane-Keeping Assist:
Helps the drivers to follow the marked lane.
Improves safety because of immediate correction of driving errors.
It's slow and gentle but also noticeably counter-steers when there is unintentionally straying at the marked lane.
Lane Following Assist (LFA)
LFA is a feature that employs a windshield-mounted camera specifically for detecting the lane makers on a specific roadway. When the vehicle drifts from its lane, this feature helps the driver with slight steering inputs to make your car return to the center of its lane.
How to Use Lane Following Assist (LFA)
You must understand that this feature does not automatically activate when you start your car. You need to follow some steps so that you get desirable results.
Here are guidelines you can follow.
First, press the steering wheel icon. You can find it on the right-hand side of the steering wheel.
You will notice the same steering wheel icon displayed above the instrument panel when you have enabled the system.
To get your lane following assist working, it must detect the presence of lane makers on all the sides of the car you are driving and ensure you are driving below 93MPH.
As you are driving, you will notice a graphic of your car above the instrument panel, including lane makers on both sides.
When your system recognizes lane makers, it automatically converts grey to white.
When both lane makers are detected, your steering wheel icon automatically changes from white to green, making you aware that the system is active.
If you accidentally remove your hands from the steering wheel as your LFA is running, you will get a visual alert on your instrument panel.
When you get the visual alert and your hands are not on the steering wheel, your LFA will automatically deactivate. But you do not have to worry when it deactivates. You can press the LFA button for your system to resume working again.
Manual Speed Limit Assist (MSLA)
MSL is a system that allows you to set your own speed limit if you don't want to drive over a required speed limit. However, if you drive beyond the preset speed limit, the set speed limit icon will blink while the chime will make noise until you adjust the vehicle speed within its limit.
Intelligent Speed Limit Assist (ISLA)
This technology mainly uses GPS-linked speed limits or video cameras to assist drivers in keeping up with the required speed limit. Its work is to alert the driver when the vehicle is exceeding the required speed limit.
In some cases, it operates as an automatically regulating speed limiter, limiting the driver from driving beyond the stated speed limit. You will find four types of ISLA systems in vehicles which include:
Cascaded vibrating warning
Cascaded acoustic warning
Haptic feedback
Speed control function
An Intelligent Speed Limit Assist (ISLA) is usually accurate. However, some factors may affect its accuracy, and they include:
Camera placement: If you place the camera incorrectly, you will not get the actual speed limit signs.
GPS signal quality: Unreliable GPS signals may impact the ISA systems negatively, making this feature operate incorrectly.
Weather: Wet roads, snow covering, or icy can make the ISA system misread the speed limit.
Here are the benefits of using ISLA:
Enhance safety
Minimizes speeding tickets
You get reduced insurance premiums
Increases safety
Lowers fuel consumption
Minimizes emissions
The Intelligent Speed Limit Assist also has a few drawbacks, which include the following:
Intrusive warnings
Sometimes the system might give the wrong speed limits
The chances of false alerts are high
Unavailability of enforcement
Smart High Beam Assist (SHBA)
SHBA is a technology employed in cars to automatically switch the headlights from low beam to high beam as your car detects another vehicle ahead. Regular usage of this technology helps you to recognize pedestrians early and make your driving experience safer.
How it works is simple; Your front-mounted camera fixed in the windshield's upper part will sense the lights from the vehicle ahead. Then the system will automatically switch the headlight from low to high beam.
You need to switch the headlight to the AUTO position to activate the smart high beam assist. Pull the headlight fever forward, and just like that, the technology indicator light will highlight in the instrument gauge cluster.
Highway Driving Assist (HDA)
This technology is a safety mechanism and driving convenience that regulates the car's acceleration, steering, and deceleration to help you minimize the workload on motorways and highways. It helps to maintain the speed that you have set, keep your distance safe, and keep your car at the center of the marked lane.
It also automatically shifts the lane when there is a need to. Wondering how it works? It's simple. Highway Driving Assist (HDA) utilizes a forward-facing radar unit alongside navigation systems and GPS technology to give level 2 driving help on portioned restricted access highways like interstates.
For Highway Driving Assist to perform efficiently, the car you are driving must be on an approved road. This technology also automatically minimizes the vehicle's speed once the highlighted limit shifts and makes your vehicle slow down.
Rear View Monitor (RVM)
RVM is a device that mainly sees the rear of your car as you drive using the camera mounted on the car. To use this feature, you must turn the engine on first, then adjust the transmission lever to the D or N position. Afterward, press the view button or the parking to facilitate support view.
This technology usually is optional for drivers. For safety purposes, a rearview monitor is employed to secure the rearview as you perform backward driving.
Active Park Assist (APA)
Sometimes you may want to access the parking zone, and you don't know how you will achieve that. And that's how Active Park Assist (APA) comes in to help you find an available parking area. It uses ultrasonic sensors to evaluate and determine the distance between the vehicle and in between the parked cars.
Once it has automatically located a big enough spot, the system alerts the driver to pause the car and agree to the system's assistance. As you agree to the condition, the active park assist will take over and control the steering while you, as the driver, control the braking.
You shouldn't use this technology when:
The unwanted object is connected to the front or rear of the car or around the sensors.
There is an overhanging item like a surfboard around the car roof.
The front bumper has malfunctioned or is damaged.
Using a mini-spare tire.
Also, remember, before you park to engage the system, then locate a spot and ensure there are no obstructions. Then while parking, ensure you engage the automatic steering and avoid interruptions.
Once you are done parking, the following actions will manually make your active park assist inactive:
Switching off the traction control system.
Driving more than 80km/hr. For approximately 10 seconds, as you perform an active park search.
Pressing on the active park button the second time.
Holding your steering wheel.
Driving more than 10km/h while employing automatic steering.
Front Wide View/ Rear View Camera
Front Wide-View Camera
A Front Wide-View camera is a small panoramic camera at the front of your car, mainly showcasing a split-screen picture of your car, so you to see pedestrians, cyclists, and other vehicles approaching your side. This feature may not help if you want to come out of a narrow parking space.
To use it, put the transmission in any of your gears except for Reverse R, and as simple as that, you will see an image at the front of your car when you have pressed the camera to enable the icon while your car speed is below 10km/h.
The front wide-view camera is seen in specific car models and not all. So always read your manual or ask your manufacturer if you do not locate one.
Rear View Camera (RVC)
Also called a backup camera or the reversing camera, a rearview camera is connected to your car's rear side. It gives you more visibility behind the vehicle, which you can get by just turning your head.
It also assists with minimizing crashes while you are backing up. To use it, you must first turn your car to Reverse. Then your rearview camera will automatically turn on. You will see an image on the video display from the back of your car.
Some systems may even include lines in the images to indicate distance. In contrast, some have pathway lines to assist you with estimating the space you need for parking. These lines usually adjust as you drive and use your steering.
To deactivate the backup camera, you need to shift out the Reverse, and the rearview camera will automatically go off. Some cars may require you to switch off the camera manually by pressing the icon. It all depends on car types and models.
Surround View Monitor (SVM)
SVM is usually optional for drivers. This technology can view through the four cameras in your car, whether back, front, right or left. As you start your car and put the gear in the R position, it will automatically turn on the surround view monitor.
When you change the gear from R, the surround view monitor stops.
Smart Traffic Jam Assist (STJA)
This advanced driver assistance is designed to measure the speed of nearby vehicles when you switch on the Adaptive Cruise Control. The speed is usually matched with your driving speed. At any time, the Smart Traffic Jam Assists (STJA) senses other vehicles to speed lower than 60km/h. It will notify you that you are in a traffic jam, so it will partly take over the driving.
When you switch it on, it automatically follows any car in front. It does all the work of accelerating and braking at speeds below 60km/h. This intelligent technology keeps the distance you have set with the vehicle ahead of you.
It helps your car stay neatly and decently in the middle of the lane and gently corners. It also makes you comfortable and provides safe driving no matter the weather conditions, visibility, and quality of traffic jams on the road.
Night View
Night View or night vision is a unique technology that enables drivers to see well during dark hours or dark areas. It mainly utilizes the available light and some parts of the infrared spectrum to make a dark image appear much brighter.
You will find a night view in the front of car cameras. In the case of Mercedes Benz, night view mainly uses the native camera to help transform an object onto the speedometer screen. This feature is available in all luxury cars like Bentley, BMW, Maybach, and Cadillac, among many others.
Here are highlighted benefits of night view:
Minimizes occurrences of accidents when you are driving under sundown.
It helps to highlight pictures ahead up to 500 feet away. Meaning you get to see objects and obstacles quickly hence avoiding collisions.
As much as the night view is helpful for every driver, sometimes, inclement weather may pose a challenge for this feature. The night view is costly to install, but you will enjoy its performance.
Remote Smart Parking Assist (RSPA)
As the name suggests, Remote Smart Parking Assist (RSPA) lets you control your vehicle backward or forward while outside the car. You use the smart key buttons to move the car in your desired direction.
This feature is helpful as it helps you park the car in tight areas without your vehicle getting damaged or your passengers injured. How to use this feature is simple:
You first drive your car toward the location you want to park it.
Then place the car in the parking location.
Press the RSPA icon located at the center console
Afterward, you will see instructions flowing within the digital gauge cluster telling you to apply the smart key to control the car forward or backward.
Then move out of the car and access a safe position.
Press down the move backward or move forward icon on your smart key, and your car will move.
The remote intelligent parking assist technology makes parking more accessible, and you will enjoy using this feature.
Augmented Reality (AR)
Augmented Reality (AR) is a process of employing 3D models with one goal, which is to enhance the vehicle experience. You can also use it to increase test drive prototypes by visually highlighting the most safety features. It is also used to form scenarios to test the heightened safety features.
Different types of AR are used in the automotive industry; Marker-based AR applications, also called image-based or image-recognition AR, and sensory-based AR applications.
Energy Absorbing Steering Column (EASC)
This technology mainly enhances driver protection by utilizing the pyrotechnic actuator to use the energy absorbed when a collision occurs.
It's primarily seen in SUVs, trucks, and cars. Energy absorbing steering column is mainly tailored to every driver:
Crash severity
Seat belt usage
Vehicle sped
Seat position
Physical size
Front and Rear Ultrasonic Sensor
Front Ultrasonic Sensor
The Front Ultrasonic Sensor primarily utilizes the sound echo to sense and determine the distance between your car and the objects. This ultrasonic sensor is located at your vehicle's front bumper to help the acoustic waves travel uninterrupted.
The sensors usually alert the driver if any object is in front of the car by producing audible beeps within the cabin. As you continue driving toward the object, the audible beeps keep increasing until you notice the obstacle.
The technology, however, does not detect small or flat objects, making you not rely on it for parking.
Rear Ultrasonic Sensor
The rear ultrasonic sensor is used to detect objects at the back or rear part of your vehicle. It warns you as you approach an object or obstacle at the back by producing an audible alarm to alert you.
Front/ Rear Radar
The front radar is located at the front bumper or grille. It assists the driver in monitoring the forward distance of other obstructions and vehicles. If your car has adaptive cruise control, this feature mainly helps to regulate the front distance to forward vehicles.
On the other hand, the rear radar is fixed at the rear corners to detect closer-range obstructions and objects from the car's rear side.
Conclusion
As you can see, car technology is comprehensive. It has simplified the work of drivers and car owners. You only have to do some settings and click, and just like that, your car bows to any order.
Many modern vehicles are automatic, efficient, and elegant because of the technology employed in them. We have also looked at the parts that form car technology, and some of them include front/rear Ultrasonic Sensors, Radar, Remote smart parking assist, Augmented Reality, and so much more.
Sources
How Does a Cruise Control Work?
Navigation-Based Smart Cruise Control
What is Intelligent Speed Assist and How Does it Work?