Fresh air is essential to you when you are driving. In this case, most vehicles are usually designed to have a good and constant fresh airflow that makes the interior car atmosphere pleasant even if you shut all the doors and windows.
Although some people prefer to open the window or a car door, which is not bad, a cowl or intake vent is needed to ensure that your cabin gets crisp and pleasant air.
So, what is a cowl vent or intake vent in a car? What is its purpose? And how can you unclog it when it gets clogged?
This article will cover all these questions in detail to make you understand them better. So, stay tuned as we delve deeper.
Here's What a Cowl Vent or Intake Vent on a Car Is
A cowl or intake vent is a panel between your vehicle's windshield and hood. It usually holds the dashboard and windshield while securing the part between the hood and the windshield. It ensures no unwanted materials get inside the cabin filter or the windshield wiper system. The cowl vent also allows fresh air from inside and outside.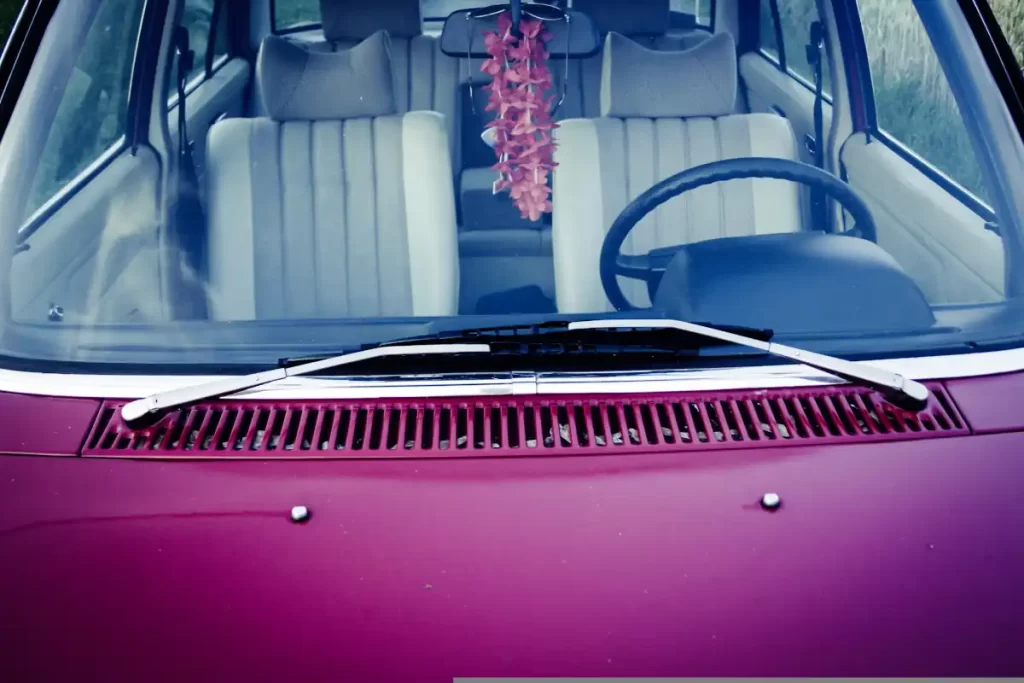 It is always advisable to leave the intake vent open, so you don't end up keeping the fresh air out while the dirty air is inside. If you block the intake vent, it can lead to a rise in negative pressure and the flow of carbon monoxide.
Sometimes the intake vent might clog if you always leave your vehicle outside. Especially when you leave it between the acorns falling and bushy places, a car intake vent may get damaged or clogged. That's why you're recommended to keep it in check and secured to avoid malfunctioning.
---
Related:
What Is the Purpose of a Cowl Vent or Intake Vent in a Car?
The cowl vent's main purpose is to bring fresh air from your car's exterior into the car's cabin. Other purposes include:
Cleaning the air and removing any dirt to give a fresher smelling
Keep any chemicals or additional pollutants out of your car
Reduce door and window drafts
Add fresh air to your car by replacing any air directed from specific places.
You can see that an intake valve is vital in your car because of its numerous functions.
How Can You Unclog the Clogged Cowl Vent or Intake Vent?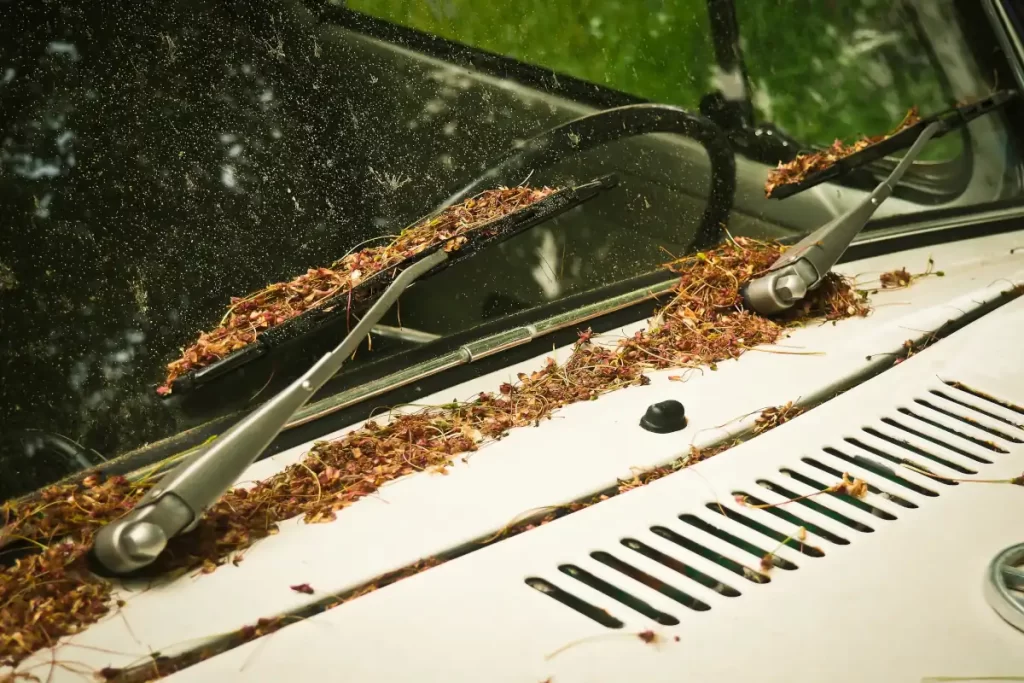 The following is a step-by-step guide to unclogging your cowl or intake vent. Take a look.
The first step to unclogging your cowl vent is to pick out large objects like leaves and sticks using your hands to make unclogging easier. Now, there are three methods you can use to unclog and clean your intake vent. Each method varies in cleaning products. We shall look at each method and the cleaning products you will need. Let's get started.
Method 1
Products you need:
White Vinegar and Warm water
To unclog your car cowl vent, you can use white vinegar and warm water with or without lemon juice. If you are easily affected by the smell of vinegar, try to use lemon-scented cleaning vinegar instead. If you can't find one, incorporate a teaspoon of lemon juice into the white vinegar.
The lemon scent usually assists in getting rid of the bad smell of mold when it's produced in your vehicle's air conditioning vents.
On the other hand, a scented cleaner helps to freshen up and give a good scent around vents.
Tip: when you don't want to unclog your car inlet vent, but want to remove a bad smell, always use lemon scent.
Foam Paint Brushes
Foam paint brushes are usually affordable, you can get them at home improvement shops, craft, and online. They may be cheap, but they are very effective. Their shape and sizes make it easy to penetrate the squeezed places of the intake vent and brush away or unclog any dirt.
The brushes also enable you to properly and vigorously unclog the cowl vent without necessarily causing any cracks or scratches on the vent. The bristles are not rough; Thus, the damage is minimized.
You will be required to use some for scrubbing and another for wiping the A/C intake vent dry.
Microfiber Towel
You will use the microfiber towel to wipe the intake vent after unclogging.
Dish Detergent
Since your foam paint brushes will be dirty after unclogging and cleaning the cowl, you will have to wash them using dish detergent or warm water.
The Steps
1. Using a paintbrush immersed in a homemade solution, ensure you clean the vent slats thoroughly by shoving and pressing on the intake vent to unclog it and remove debris.
2. Rinse the dirt and grime when your brush absorbs dirt while cleaning, or take a new brush. Continue cleaning until the intake vent is unclogged.
3. After everything is unclogged and clean, you must wipe the A/C vents. You can use a new paintbrush or towel to do the wiping.
4. Finally, wash the used brushes using warm water with a little dishwashing liquid. Rinse them thoroughly to eliminate any dirt that could have accumulated, and let them dry before you store them.
Method 2
Products you need:
Enzymatic Cleaner Spray
Specifically made for car A/C treatment, an enzymatic cleaner spray will serve you best on both your air conditioners and intake vent. It is a great disinfectant spray that eliminates dirt in the intake vent and ductwork. Also, the enzymatic cleaner spray helps to kill mold that builds up on the A/C.
You can get it as a spray bottle with a detachable straw for easier application.
The Steps
1. You will have to turn off the car's engine and remove the keys from the ignition. Then close all the windows and doors, plus your air conditioner.
2. Now put the straw on the disinfectant spray to spray the intake vent. If you need to know where the intake vent is, kindly check your car's manual.
3. Once everything is set, you must put the straw inside the vent and spray it thoroughly. Spray the intake vent and all other vents by the driver's side, the passenger's side, and the dashboard.
4. After spraying, switch on the engine and allow your A/C to run at its maximum level and circulate.
5. Then, spray your intake vent below the glove area without using the straw. Afterward, you will have to reset the air conditioner to the fresh air intake, then get out and close your car door.
6. To achieve consistent results, you must spray with your straw attached to the cleaner, the exterior air intake vents, and windshield vents. Other car models would require you to open the hood to access the exterior intake vents to clean them.
7. Finally, after you are done, turn off the engine and open the windows and car doors to ventilate your car.
Method 3
Products you will need:
Professional Car Steamer
When your car intake vent has clogged for some time, the clog usually tends to stick. Cleaners and brushes may not remove it, but a professional car steamer would do a good job.
It easily gets rid of oil, tough stuck dirt, and mold smell and even disinfects your car.
Towel
You will need the towel to wipe the inlet vent after unclogging.
The Steps
1. Steadily allow the steamer nozzle to penetrate over each cowl slat. And just like that, it will quickly eliminate any dirt unclogging your intake vent.
2. Afterward, you may see moisture on the exterior of the car vents because of steaming. Take a towel and wipe.
3. You may also see moisture inside, but that shouldn't make you panic. Just let the fan run at full blast to eliminate the moisture.
Once you unclog your intake vent with these three methods, you must check the cabin filter. If it is not replaced after a longer time, it may produce an unpleasant smell, making you think the intake vent has problems.
To be safer, kindly replace your older filter with a new one. You should replace your air filter after 5000 to 30000 miles, although it depends on your driving landscape.
How to Keep Cowl Vent or Intake Vent Clean?
Here is how to keep your cowl vent clean. Take a look.
1. Keep the debris and dead leaves from accumulating around your intake vent – Always brush away any leaves or debris when necessary or every week. If they stay there for long, they may cause mold buildup. So, always wipe when you notice any.
2. Always dry out the A/C intake vent and fan blower frequently – And while doing this, make sure your car doors are open, then allow the fan blower to run at its highest level while your A/C is turned off. You can carry out this exercise every two to three months during warmer, dry days.
3. You can also switch off the A/C three to five minutes before arriving at your destination. Then allow the fan to blow instead. It will, in turn, prevent molds from developing in your cowl vent.
4. Replace the cabin filter when it gets clogged – Always thoroughly check it to ensure it's in good shape.
5. Don't ever block the vent with any object – Whether your phone or anything else. You want air to flow freely without any hindrances.
Conclusion
Clean and fresh air is vital in your car. You will always feel great with an outstanding cowl or intake vent.
Thanks to your intake vent, you can have clean air from outside and eliminate dirty air. Always ensure your vent is clear and not clogged. However, if it gets clogged, you can follow the guideline provided in this article to unclog it.
Hopefully, this article has enlightened you on what a car cowl vent or intake vent is, and you will now pay attention to it. If the intake vent doesn't function correctly even after unclogging it, kindly seek professional help to diagnose and solve the problem.
Sources
What are Fresh Air Intake Vents?
How to Unclog Air Vents in a Car; From Removing Smell to Cleaning Fungi
Keep Your Car Happy by Cleaning Cowl