There are different ways we usually use our phones while driving. Some may play music, while others prefer to use them for navigating with the GPS. Whatever the case, we will have to mount the phones to see where we are heading because holding them while driving may pose a challenge.
So, one of the familiar places we usually mount our phones is on the car vent. But since the car vent is a vital part of HVAC that allows good airflow in and out of the car, this raises concern as to whether the car vent mounts can damage the vents while using them.
Well, this article will provide you with clear answers to this question. So, let's go!
Here Is What Car Vent Mounts Do to Vents
If you mount your phone directly on the vent, it may damage it when you remove the phone incorrectly. Especially if your vent phone holder is of low quality and you are constantly placing it in front of the car vent. Besides that, Other damages will be on your phone since the extreme heat will be blowing directly on the back of your phone, making it heat up.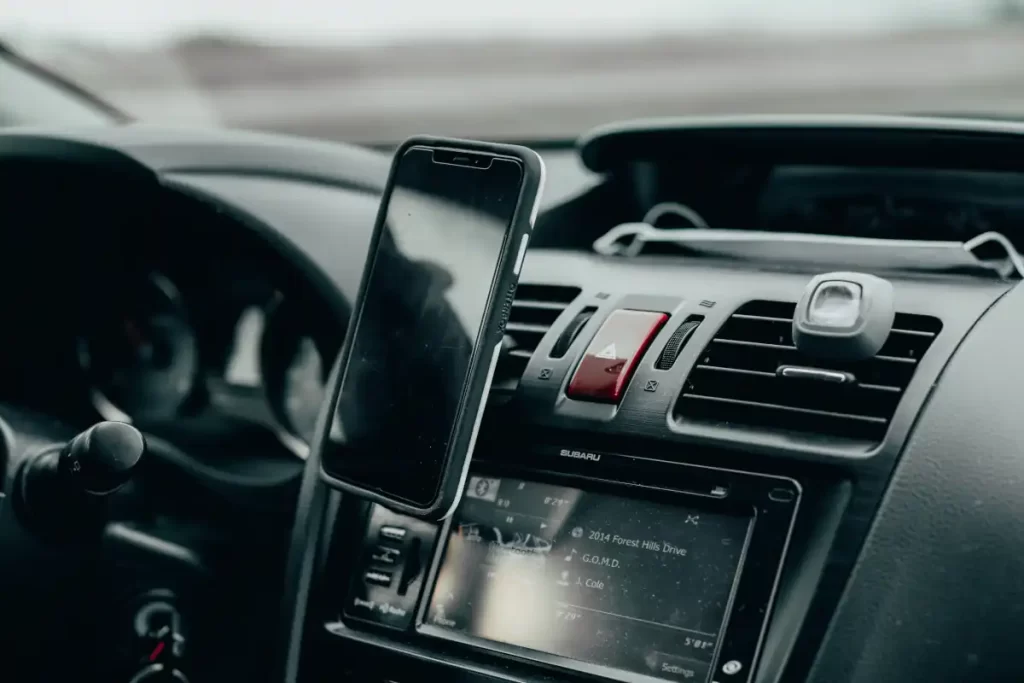 In the long run, your phone's internal circuit will get damaged, and the battery life will reduce. The extreme heat from the vents usually causes the batteries to loosen capacity, making them unable to keep a charge leading to replacements.
Additionally, car vent mounts usually block the vents from distributing air freely. The air will end up pushing against each other at the blocked air vent leading to an increase in pressure which can cause damage to your HVAC system heat exchanger.
Due to the damage, it can cause exhalation of carbon monoxide and make the ductwork leak.
---
Related:
Do Car Vent Mount Block Air Flow and Damage Car Heating and A/C system?
If you mount them directly on the car vent, the mounts usually block air flow and damage car heating and A/C systems. When you have your car vent mounts, what usually happens is that air pushes itself against the car vent. When there is a constant push of air toward the blocked duct, it increases pressure.
The increase in pressure, together with inadequate airflow, may lead to damage to your car heating and A/C systems. And the damage does not stop there.
It may also cause the exhalation of carbon monoxide and make your ductwork leak. It will, in turn, make you incur costs for replacements and repairs.
Also, car vent mounts may cause moisture to build up around the car heating and A/C system, making them not function properly. So, if you have to use car vent mounts, always ensure they are of good quality and do not place them directly on the car vent.
What are the Different Types of Car Vent Mounts?
Below are different car vent mounts you can find in the market. Take a look.
1. Jelly Grip Soft Car Vent Mount
The Jelly grip soft car vent mount is an excellent mount that utilizes a flexible, solid metal hook. The hook usually extends through the vent entrance and around vertical louvers. Moreover, the jelly grip soft car vent mount's spring-size loaded grip can firmly hold your phone up to six inches in width.
It also lets you slide out your phone when you want to remove it. However, this type of car vent mount may only be suitable for people with vents within the 0.5-1-inch depth range.
2. iTap 2 Wireless Car Vent Mount(iOtte)
This car vent mount comes with a charger and a phone mount. The iTap two wireless car vent mount comes in three options when purchasing; Mount using the CD slot in the standard dash mount or stereo and a vented style mount.
All three options will wirelessly charge the Qi-enabled smartphones. Its magnet can firmly hold an iPhone XS Max in a good place, although the wireless charging system may not be suitable.
3. The BE Standard Car Vent Mount
BE standard car vent mount functions perfectly with vertical slat vents by securing them with a little clip to have a tight or firm grip. Even after several months of use, this mount type doesn't readjust. Moreover, the mount maintains its grip even if you rotate it many times.
The BE standard car vent mount can hold a phone with 1.9 to 3.9 inches in width. It's made up of a solid, dense, rigid, and plastic lining containing soft pads to offer protection and cushion your phone. It supports most current android models and iPhones.
4. Easy One Touch 4 Air Car Vent Mount
Are you looking for an affordable car vent mount? The easy one-touch air car vent mount is the best option for you. This mount is a good pick and contains two parts that are easy to assemble. You must snap the vent clip to your phone's back mount and join the spring-loaded clamp.
The mount uses a lock and release system to hold your phone using two arms firmly. It fits phones between 2.3 and 3.5 inches wide. It can mount an iPhone 8 plus, iPhone 8, and iPhone X, all with or without cases.
5. Koomus CD-AC Car Vent Mount
The CD-ac car vent mount is simple and utilizes a single lever to hold the phone in place. Its support has a sturdy hold and contains three rubber spacers to help improve clamping forces when required.
You can position the mount differently since its arm moves up and down. So, you can fix it with the mount pointing up or down. In addition, its grip style contains outstanding light tension, enabling easy one-handed mounting.
Moreover, the Koomus CD-ac car vent mount supports bigger phones with heavy cases. It can keep pixel 2XL, and Nexus 6P, among others.
6. iTap 2 Magnetic Air Car Vent Mount
If you want a mount that slides into vertical and horizontal slats, then the iTap two magnetic air car vent mount is the right choice. It's slats, and a clamp usually hold the rubber clip to give a firm or tight hold. Also, it's magnetic mount does not budge when removing your phone.
The iTap two magnetic air car vent mount clamp solves the major problem with most air vent phone mounts. This air mount model features are equally best designed, discreet, and compact. So, you don't have any problems while using it.
Moreover, its 360-degree rotation supports custom phone orientations and provides good airflow on the back of the phone.
The magnetic surface gives a tight lock alongside metal plates. Because of its thicker wallet-type case, your phone won't slip out while driving along bumpy terrains.
7. Kuel A200 Car Vent Mount
This car vent mount is the most discreet, simple, and affordable mount you can find in the market.
It contains a rubberized stem with slits to enable the mount to flip directly unto the air vent. Moreover, it comes with metal plates attached to your phone, providing the uttermost support for even larger phones.
Choosing a suitable car vent mount can be tricky. However, using the following checklist, you can get the best car vent mount. Always get a car vent mount that is/has:
Valuable features and a universal design
User friendly
Durable
Ultimate handiness
Lightweight and stylish
Excellent features for safety
Where are Other Places in Your Car to Mount Your Phone?
Other places in your car that you can mount your phone include the dashboard, windshield, and DIY mount. We discuss below each of these places. Take a look.
Dashboard
Most windshield mounts are usually converted into dashboard mounts. What you do is place your phone mount lower on the dashboard. You have to incorporate an adhesive pack. You then disassemble the dashboard and some tools to install it successfully.
Most drivers usually avoid mounting their phones on the dashboard because they are intimidated by the installation process. However, dashboard mounts are beneficial since they serve best in cars with steeply raked windshields.
Mounting your phone on the dashboard makes you closer to your phone, reducing the length when you want to interact with it. It also leaves a clear view, making you drive without any challenges.
Windshield
Windshield mount is the most frequently used mounting option. It is an excellent mounting position since it puts your phone at eye level, enabling you not to struggle when you want to check the map or something else on the phone. It would serve you best if you had a suction cup, and the mounting option will support your phone on the car's windshield.
Moreover, installing and removing your phone on a windshield is easy. However, this mounting option can block a bit of forward visibility.
Alternatively, if you need help finding a good place in your car to mount the phone, sometimes the decision is not to mount your phone.
If you don't want to watch an invisible app or see something from your phone, you can keep the phone in your pocket, fix your eyes on the road and utilize your ears. It will require you to be extra careful, but you will make it to your destination.
What Is the Best Car Vent Cell Phone Holder?
The best car vent phone holder is the Jelly Grip Vent Mount. When it comes to the best cell phone holder overall, dash and windshield car holders are typically the best. Some may fit at the suction base while others on the automotive-grade adhesive that doesn't damage your car.
Conclusion
While car vent mounts pose to be convenient and efficient when mounting, there are some hidden dangers they might incur on your car vents and A/C system. If you can mount your phone in other places inside your car, kindly do so.
You can also avoid placing your phone directly on the car vent to avoid heating your phone and costly repairs for both the phone and your heating and cooling system. A good car phone mount is of good quality and does not destroy the vent when you pull it out.
Sources
9 Different Types of Car Phone Mounts
How to Choose the Right Cell Phone Mount
The Best Place to Mount Your Smartphone in Your Car?
Are You Blocking Your HVAC Vents?