An in-car entertainment system consists of many components that contribute to the safety, comfort, and satisfaction of both the driver and the passengers.
Now, a few devices are exclusive to the driver, such as the navigation system on the screen dashboard. The driver generally uses this only as they need to know where to go. The rest of the passengers are mere 'tagalongs' in a way.
In the same way, some devices are exclusive to the passengers sitting in the back seats. All of these devices are from the rear entertainment system.
So Is the Rear Entertainment System Really Worth It?
As the name suggests, the rear seat car entertainment system is exclusively for rear passengers who want to be entertained without distracting the driver. If you are frequently traveling in the rear passenger seat or travel with kids sitting at the back, rear entertainment is a must. Also, if the rear passengers want to be entertained with personalized content, then the rear entertainment system can also come in handy!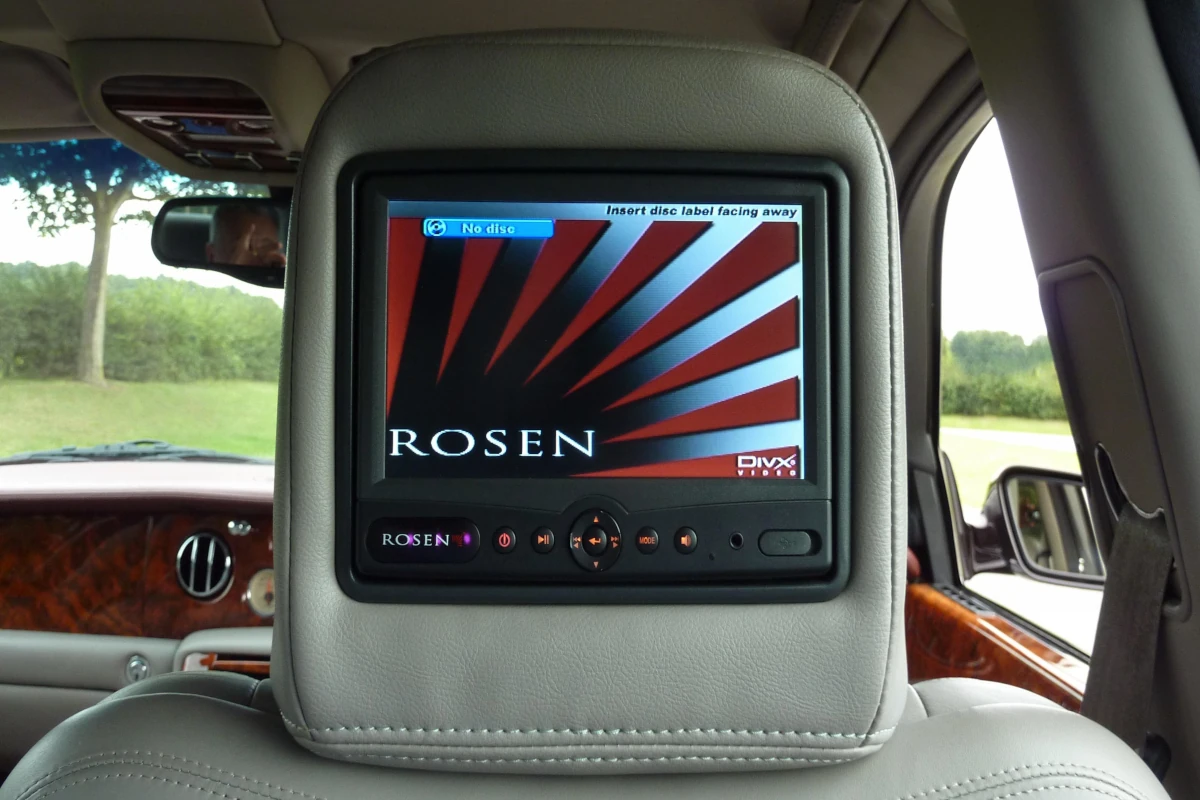 In this article, let's try to find out more about the entertainment system, and what it is. Can you add your own? What options do you have? etc.
Please read on to explore more!
---
Related:
What Is A Rear Entertainment System And its Purpose?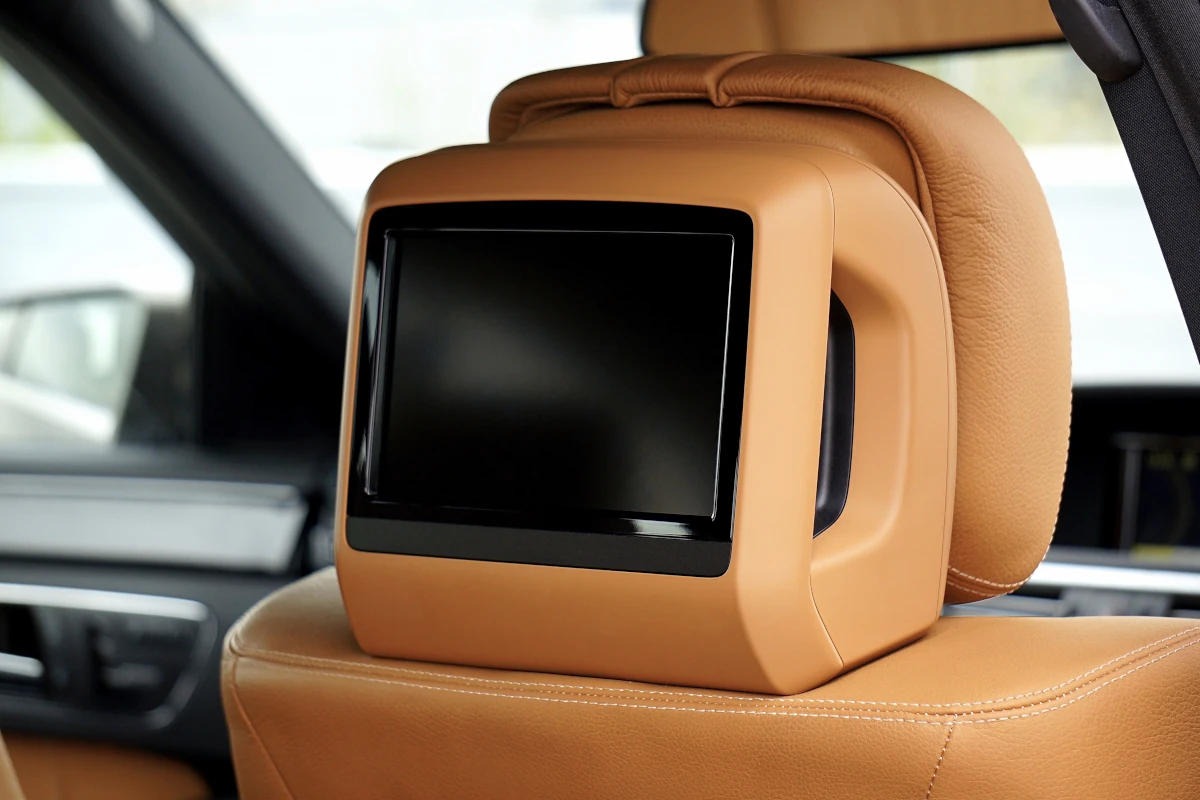 Simply put, rear-seat entertainment consists of all those devices, including a screen, placed in the seats behind the driver of your car.
These are specifically built for the passengers sitting in the back seat. It's similar to having a television in the backseat.
You may opt for an improved headrest that replaces the headrests built into the front seats, a roof-mounted flip-down monitor, or both, depending on the design of your car.
Originally, a video device would be mounted in the back of the car and connected to these screens.
The available sources quickly progressed to standalone video players, including headrests with built-in media playback possibilities.
Modern solutions include a USB, SD card, or microSD card connector and an Android operating system to play videos stored on a portable device.
It is very useful, especially for long car rides where young children might get bored in the backseat and distract the driver.
Instead, they can now watch movies comfortably while wearing headphones so that nobody else gets disturbed.
Can You Add Rear Entertainment?
Many cars don't have an in-built entertainment system. In that case, you need to hire an agency to build it for you.
It costs between $1000 to $2000 to install a factory unit, while it's a little less for an aftermarket solution.
There are certain factors you need to take into consideration before installing the devices.
Number Of Displays
When choosing an entertainment system, you should first decide how many displays your car needs or whether you want to utilize the same media player in multiple displays.
This will impact the installation of the rear-seat entertainment system.
You can create a built-in, personalized headrest entertainment system if the displays are only used in one vehicle or choose a removable alternative for flexibility.
If you're interested in using the screens for numerous vehicles, choosing a removable option can be cheaper than selecting the built-in headrest option for each vehicle.
Vehicle Safety Features
Investigating your vehicle's safety features is also crucial. There are active headrests in several cars and trucks.
These systems utilize the same sensors as the airbag system to adjust position automatically to lessen the chance of head and neck injury in an accident.
Under no circumstances should you alter or eliminate these systems as they can pose a risk of injury in the event there is an accident.
Process Of Installation
It is also important to find out how the installer you are working with plans to mount an overhead monitor on your car.
The monitor must be firmly fixed to the roof or other supporting structure to operate as intended.
It might not be adequately secured to a cardboard headliner to keep it from coming free in an unfortunate collision.
What Are The Alternatives If You Don't Have A Rear Entertainment System?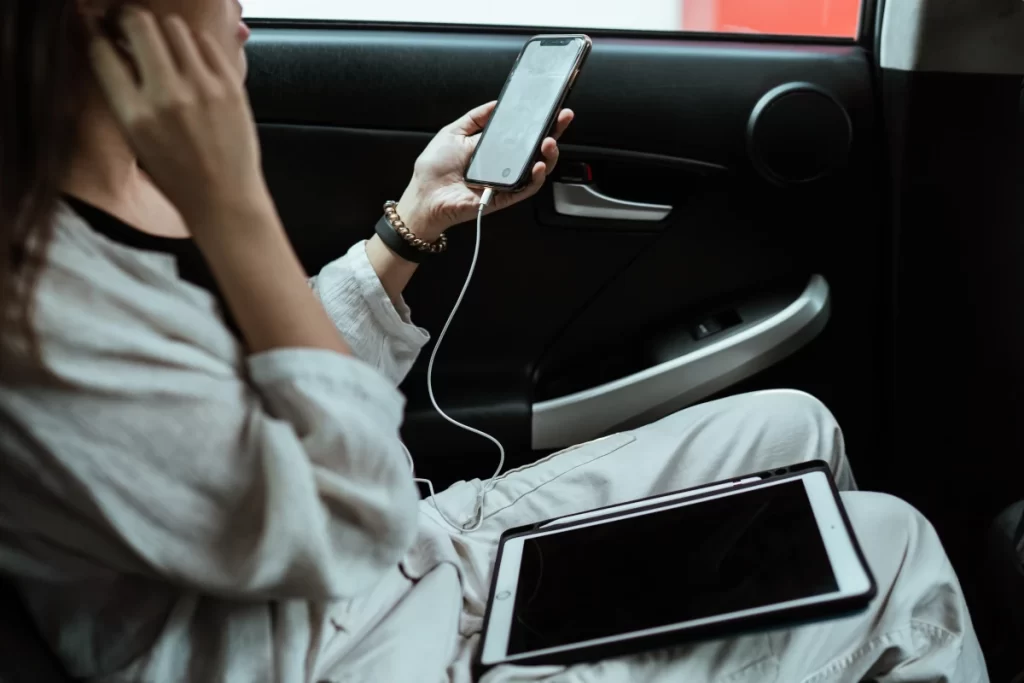 There are several alternatives to a factory-installed entertainment system.
Let us discuss the most economical and satisfying alternatives:
Aftermarket System
Installing an aftermarket entertainment system by a pro or a big box retailer like Best Buy would be the first option and the closest to having the actual thing.
A quick internet search could help locate some local possibilities.
Some businesses specialize in aftermarket automotive entertainment.
Self Installation
A self-installed entertainment system is a second and less expensive choice.
These headrests have built-in screens and media players. Kids can view two movies simultaneously because the headphones are cordless, and each screen has a separate media player.
You can even plug your Roku or Amazon Fire stick into the HDMI ports if you have a mobile hotspot or WiFi signal (available in some later minivan models for a monthly membership cost).
Flip Down Monitor
Another option is a flip-down monitor. It is attached to your roof, and either wireless headphones are used to listen to the sound, or an FM radio can be used to send the sound.
Remote control and two sets of wireless headphones are included with this set.
Handheld Independent Devices
The fourth alternative is a handheld device. Children can use their tablets or phones to watch whatever they want.
They can plug in headphones or use wireless buds so that nobody gets disturbed.
This, however, does have a disadvantage since it compromises comfort.
The children will have to continuously look down at their screens, causing a strain on their necks.
What Is The Safety Consideration?
Several critics agree with the fact that rear-seat entertainment can be harmful to passengers.
Since the screen is right in front of them, there is a very high chance of someone's head hitting the screen if the vehicle suddenly brakes.
This, of course, can be prevented if the passengers in the backseats also wear seatbelts.
Several suggestions prevent this, such as one single screen mounted from the roof at the front of the car.
Also, this has been very risky as well since now. There is a possibility of the driver getting distracted and also the driver not being able to use the rearview mirror properly.
It also defeats the purpose of 'back seat entertainment.'
This safety concern needs to be addressed, either by making seatbelts compulsory for all or by providing inbuilt (headrest) screens, so they do not harm anyone.
Final Word
At the end of the day, if the safety issue is addressed and resolved, rear-seat entertainment can be very helpful, especially for parents with children.
Of course, it does not encourage much social interaction among passengers, but unfortunately, that is the type of society we are living in today!
Sources
Choosing the Best Rear-Seat Entertainment System for Your Family
Rear Seat Entertainment Options for Your Next Vacation