If you're driving the same car every day, you may find it monotonous at some point and will seek to add a hint of amusement to your ride.
The moment you look at driving as a burden, it increases the chances of you getting into an accident.
That is where your in-car entertainment system helps you. Not only does it help you enjoy your drive, but it also helps you focus on driving and ensures your safety.
Here's What In-Car Entertainment System Actually Is?
An in-car entertainment system is a combination of devices that helps the driver and passengers keep entertained. The entertainment could be in the form of radio, audio, video, gaming, or multimedia. At times there are bespoke entertainment systems, one exclusively for drivers such as an audio-only system, for safety reasons, while another for rear-seat passengers such as personalized video, gaming systems, or kids' entertainment systems.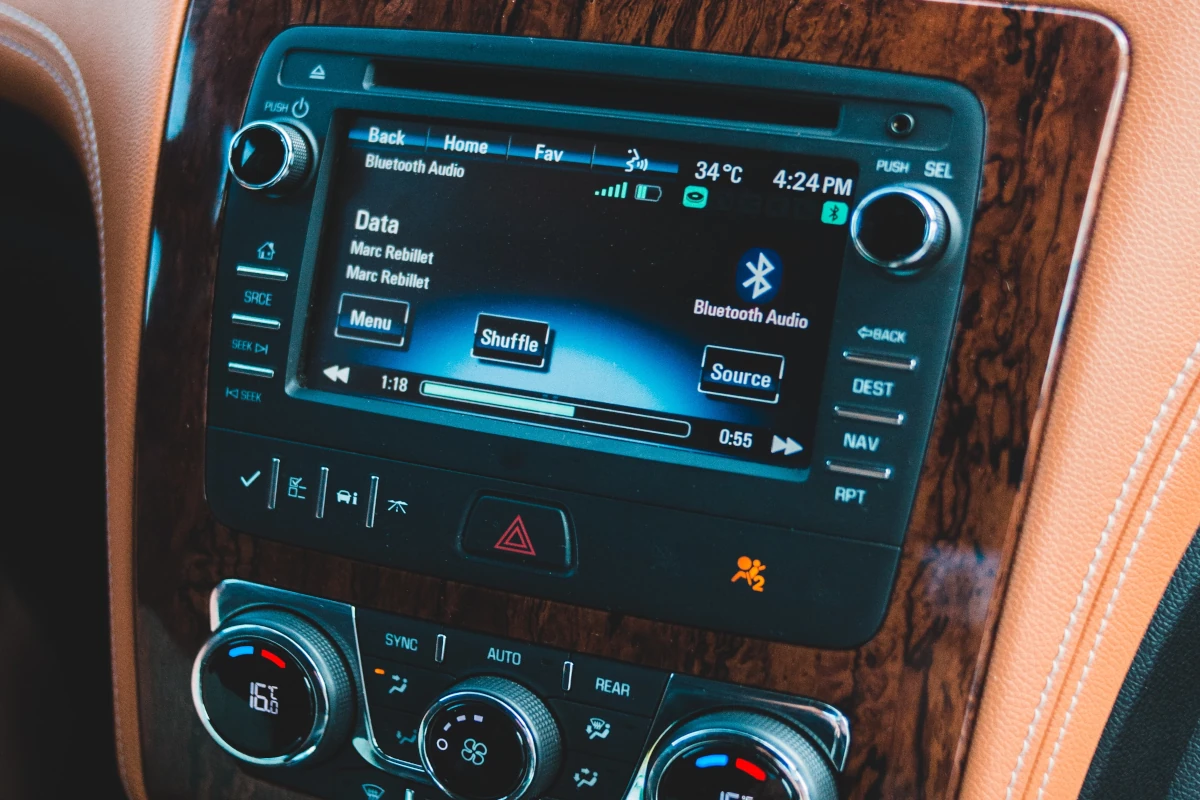 What Does In-Car Entertainment System Mean?
As the name suggests, an in-car entertainment or in-car infotainment system is a collection of devices contributing to the driver and passenger's audio and visual satisfaction.
Your drive can often be monotonous if all you can see is the road blocked ahead and hear loud horns in the city's traffic. In such a case, the in-car entertainment system comes to the rescue.
In this article, we're going to delve deep into the world of in-car entertainment systems so that you are well aware of how to equip your car, and it also helps you choose which car to buy as it could be a lifesaver for long boring drives.
---
Related:
What Are The Different Type Of In-Car Entertainment Systems?
Several devices in a car make our driving experience smoother and more entertaining.
Automakers tend to make different types of in-car entertainment systems depending on the model you buy.
They make them user-friendly and easy to use, which is very important since our main focus should always be driving safely rather than figuring out how a device works.
Skeptics should go no further than today's cars, which provide more choices than ever in terms of in-car entertainment alternatives. There are also after-market in-car entertainment systems available if you would like to upgrade.
Automakers are also keen to fit as many screens and functions as possible into their high-spec vehicles on varying models, all hoping to make your commute as simple and enjoyable as possible which is why there are many different types of entertainment systems.
Some of the key types of in-car entertainment are discussed below:
Heads-Up Display
An automotive heads-up display is part of high-end car infotainment systems that show real-time car-related information such as car speed, navigation, etc on a transparent screen built into the windshield.
A heads-up display reduces driver attention while driving and provides critical information such as speed, navigation maps, multimedia options, etc.
These can often be used as static control panels for audio & video systems. However, not many dashboard screens have actual video display features since that tends to distract the driver.
Apple CarPlay Or Android Auto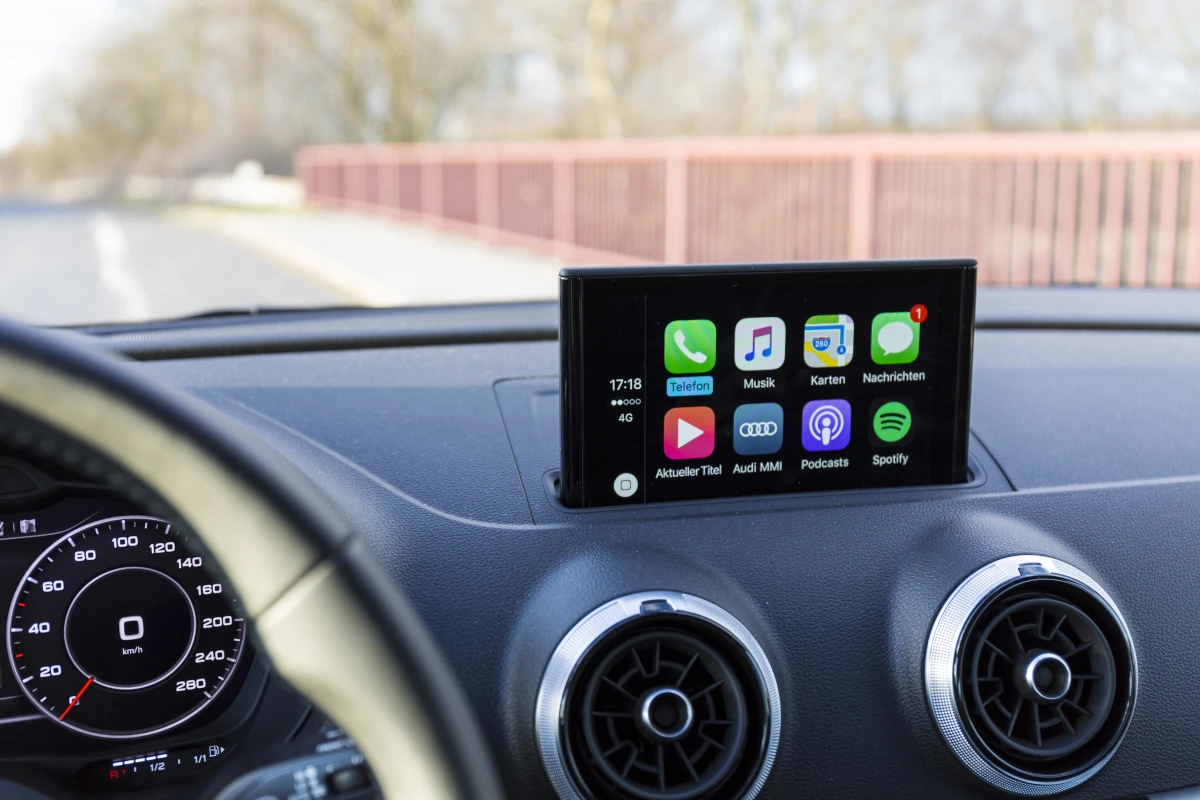 Similar to your smartphone automakers are moving to consolidation where the entertainment system is based on either Apple or Android operating system.
Apple iPhones generally work well in terms of connectivity with Apple CarPlay while Android Phones work well with Android Auto. They also work cross-platform but not as smoothly.
Apple CarPlay and Android Auto basically project the apps which are available on your phone onto your dashboard screen giving you a seamless extended experience of your personalized phone including phone call and message display.
It thus eliminates the necessity of checking your phone while driving, which is an added safety bonus.
Both of them support various apps such as Google Maps and Spotify, to name a few.
Stereo System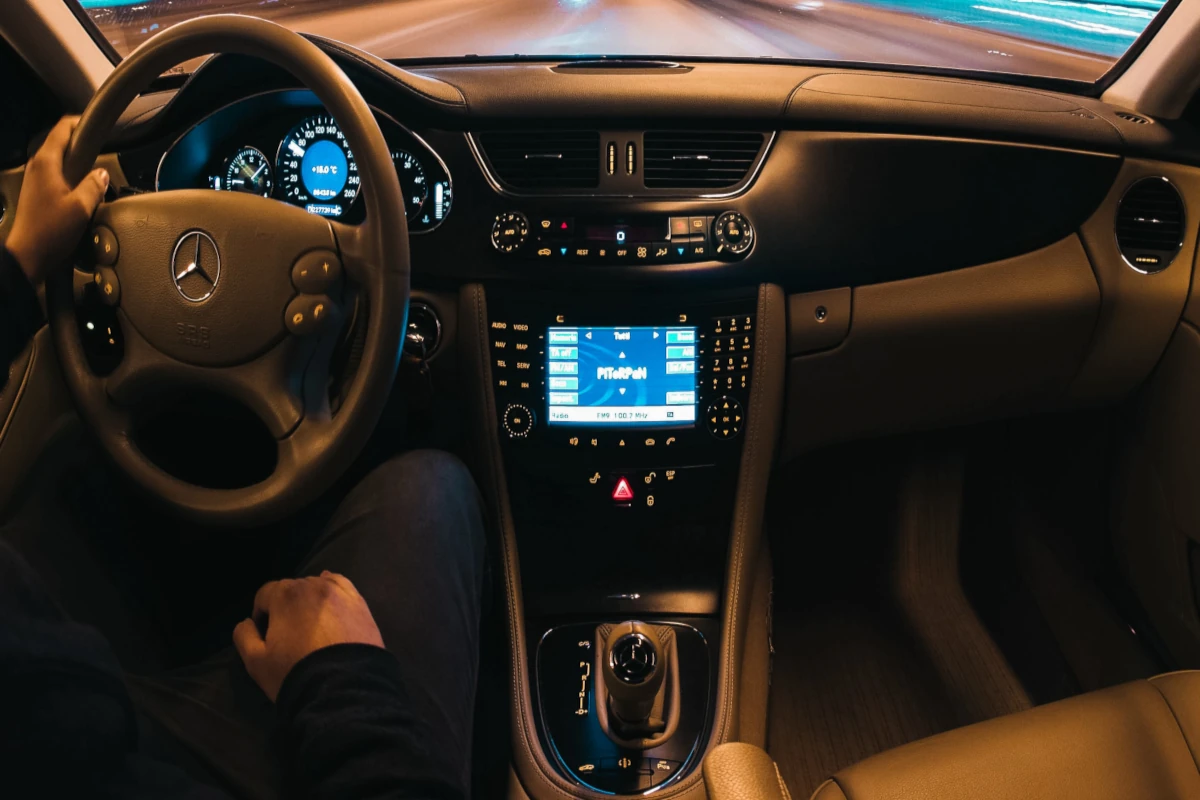 The term "car stereo" encompasses not just the head unit or radio but also the speakers and amplifiers that drive them.
Car stereos are the traditional way of entertaining you which pick up the local radio stations – AM, FM, or DAB (Digital Audio Broadcast) along with playing CDs or other media files via Bluetooth.
In other words, your car radio encompasses the entirety of your vehicle's audio system allowing you to play the right music to entertain driver and passengers alike.
Connectivity Modules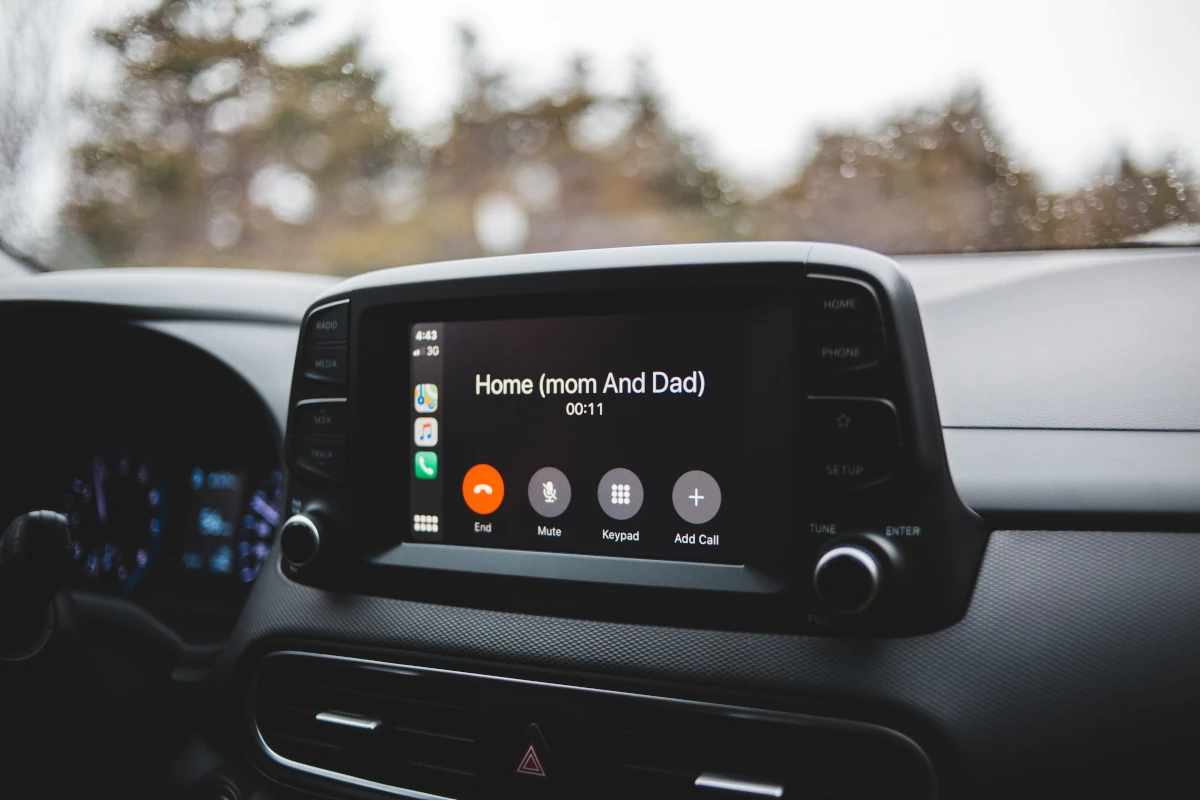 Global Positioning System (GPS), Wi-Fi connectivity, and Bluetooth modules are used in infotainment systems to connect to external networks and additional devices such as navigation systems, internet access, and smartphone integration with the car infotainment system.
This helps give the car a personal touch since you can read your messages and call someone through your car itself.
What Is In-Car Rear Entertainment System?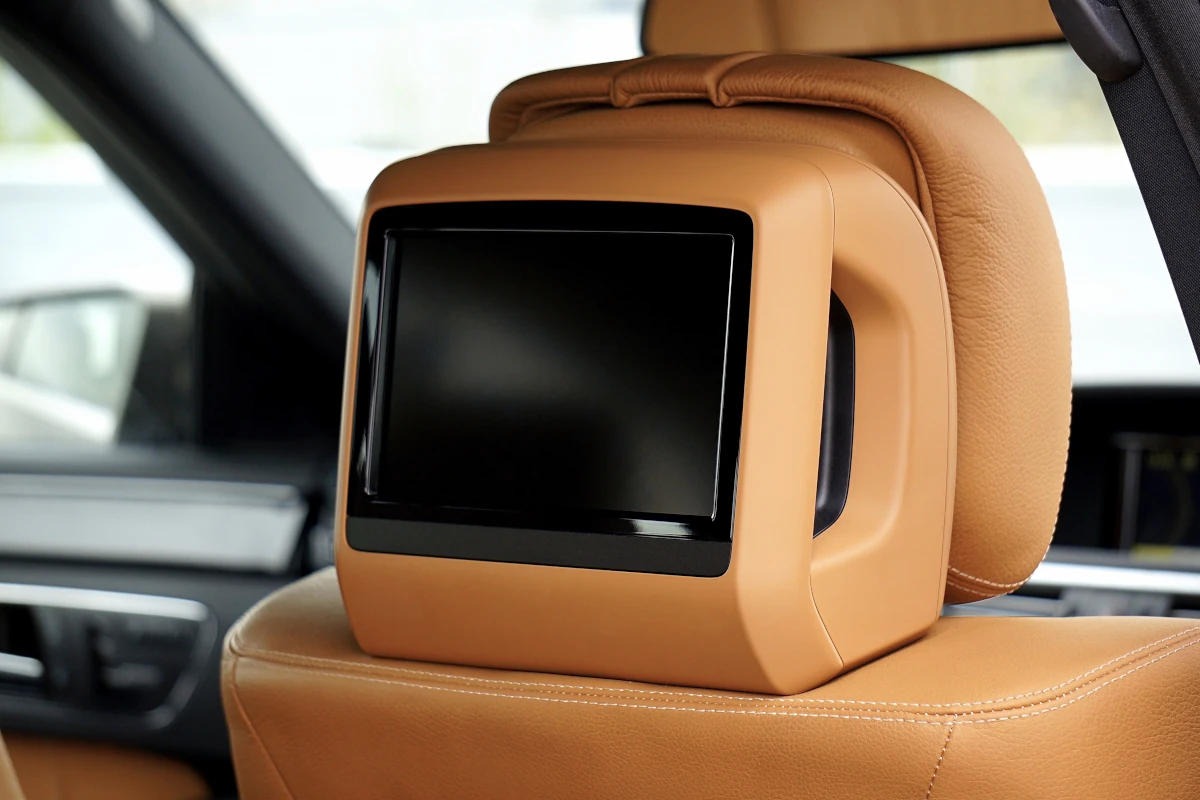 Rear seat entertainment consists of all the devices which provide entertainment exclusively to the passengers sitting in the seats behind the driver.
The main form of entertainment here are 7+ inch screens attached to the back of the driver's headrest and the seat's headrest next to them, something similar to individual passenger airplane screens.
These can be imagined as your 'car Ipads'. They can have various web streaming apps, such as Netflix and Disney Plus, where passengers can watch anything they want.
It can also have games downloaded on it, so rear-seat passengers can play games during their journey.
Usually, these come along with headphones so that passengers can watch two different things without disturbing each other, and also to avoid distracting drivers for safety reasons.
What Is In-Car Entertainment For Kids?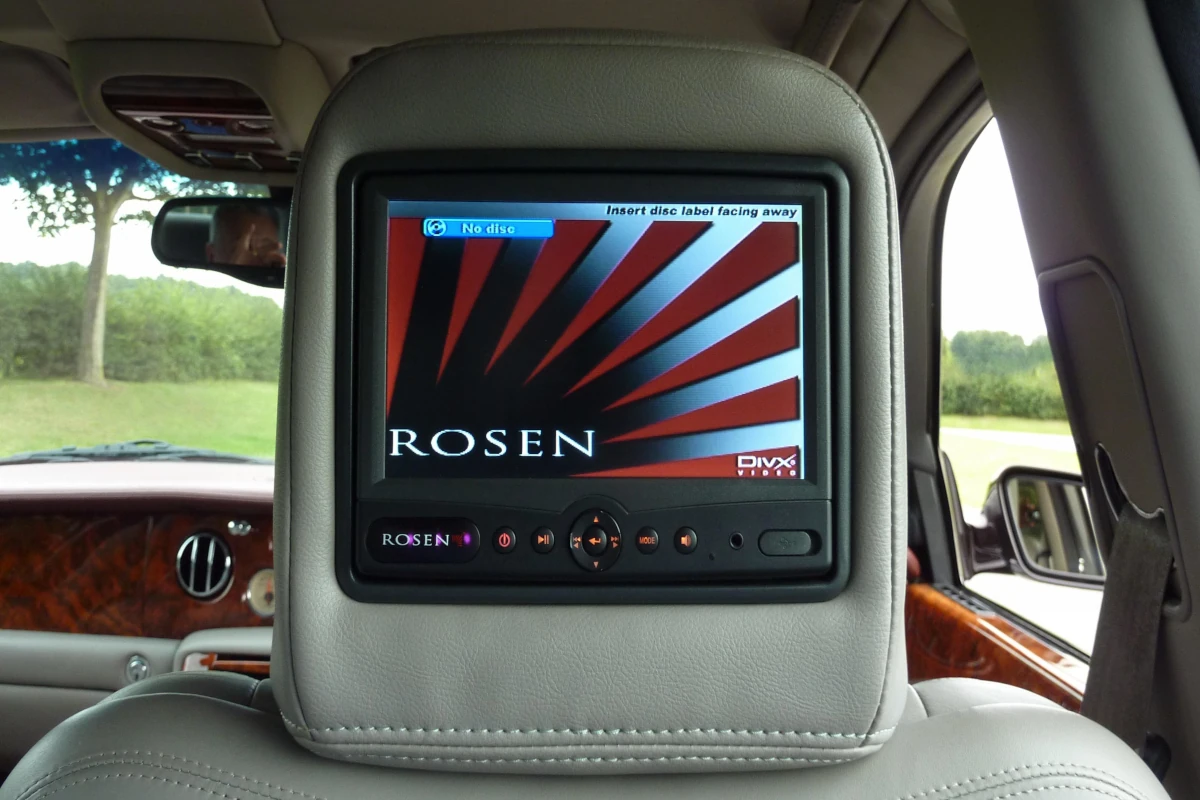 Car entertainment systems for kids are similar to rear entertainment but mainly geared toward kid's entertainment.
Certain cars have overhead screens pre-installed where these screens can be pulled down from their attachment to the car roof or can be attached to the headrest of the front screen.
The focus of this is the comfort of the passengers and maintaining the distance better the seating portion and the screen.
Kids can lean back into their seats and be comfortable while watching whatever they like without frequently touching the screen.
These are especially useful during long rides where kids tend to get distracted and, in turn, distract the driver.
Rear entertainment devices have become popular to such an extent that even certain Uber or Ola cabs have them on their premium offering.
Even if these cab rides are very short, people use these devices to the fullest since it is a new and upcoming concept and is a great example of how fast technology is evolving in today's world.
In Conclusion
We live in a world where everyone is busy glued to their screens doing one thing or the other. To provide consistent experience during car journeys, it makes sense for automakers to innovate in such entertainment systems.
In-car experiences are largely led by rich media and entertainment offerings, which include everything from listening to digital music and watching video streaming to listening to podcasts and playing interactive games while you are traveling.
Latest cars are also connected via 5G high-speed internet that powers such experiences and make not only entertainment seamless but also offers self-driving and real-time diagnosis of your car possible.
Source
Everything You Need to Know About In-Vehicle Infotainment Systems
The New Era Of In-Car Experiences And Its Effect On Media and Entertainment